Pecha Kucha is a fun new craze that is sweeping the world. In over 200 cities world-wide, it's an event where creative people come together and share work in a very controlled format: each presenter can show 20 slides for 20 seconds, for a total presentation time of 6 minutes and 40 seconds. The strict format keeps things hopping!
My assistant Angie, her fiance Tim and I recently attended a Pecha Kucha in Portland and we had a blast. Among the 10 presenters that night were photographers, furniture makers, a filmmaker, an animator, an architect and an artist who draws only Labrador Retrievers. It was a fast-paced evening and we came away impressed with the presenters' creativity.
The next Pecha Kucha will be June 15th right here in Brunswick, and I'm very excited to have been chosen to present that night. I've decided to expand on the "20 slides x 20 seconds" format by making my images from 20 unique places in Maine. So, no two slides will be from the same place. At first I worried that might be tough, but I've been fortunate to have assignments in so many wonderful places in Maine that it wasn't hard to come up with 20 unique area to feature.  Below is a shot from a cabin on Daicey Pond in Baxter State Park as the sun rises behind Mount Katahdin.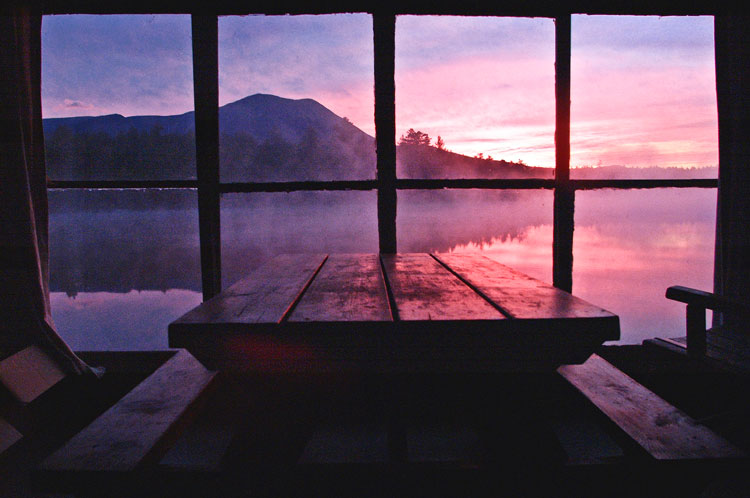 The Brunswick Pecha Kucha is being coordinated by the Five Rivers Arts Alliance and starts at 6 p.m. at Frontier Cafe, Cinema, & Gallery.  There will be two other photographer-presenters plus  a painter, an arts therapist, two furniture makers, a sculptor, a puppeteer, and a fiber artist. Reservation are recommended and can be made by emailing Five Rivers.