Okay, I'll admit it: I'm smitten with the new Penobscot Narrows Bridge and Observatory. I've been to the top of the observatory at least ten times and I still smile in amazement each time I round the bend on Route 1 and catch my first glimpse of it up ahead. I can't help but pull over and jump out with my camera, hoping to catch a tugboat or ship making its way under the span.
The new structure, which is located adjacent to Fort Knox, carries Route 1 traffic across the Penobscot River near Bucksport. Well, more precisely, it's between the communities of Prospect and Verona Island.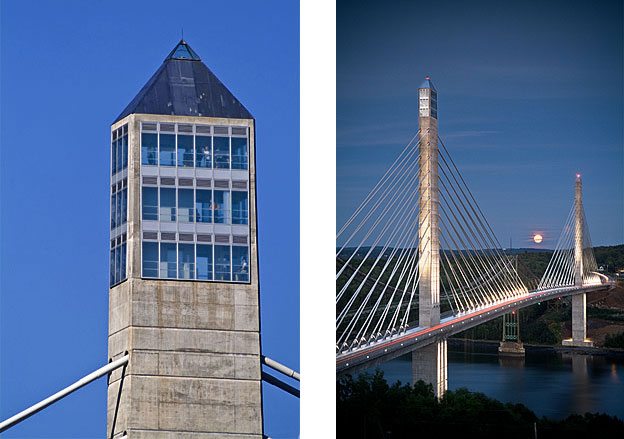 More than just a bridge, it's an engineering marvel, a work of art. The 2000-plus-foot-long cable-stayed bridge (in the style of Boston's Zakim Bridge) sports one of only four bridge observatories in the world, yes, in the world. And, of the four, it's the only one in the United States. The 420-foot observatory towner, fashioned after the Washington Monument, which was made with granite quarried nearby, offers incredible panoramic views in all directions. On a clear day visitors can see The Camden Hills, Acadia and even Katahdin.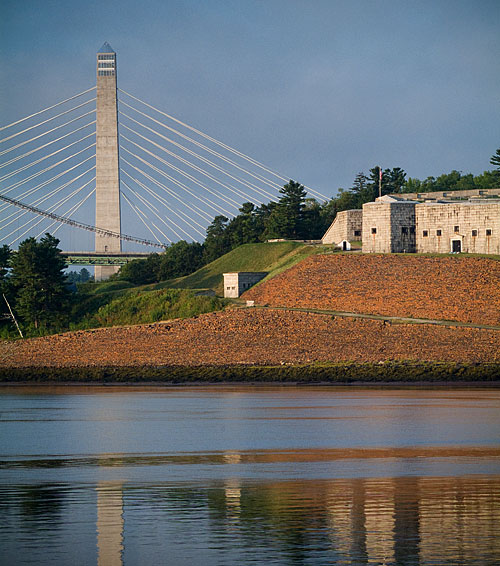 Kudos to the Maine Department of Transportation, to Figg Engineering Group and to whoever it was who came up with the ingenious idea of incorportating an observation tower into the new bridge. In its first season the observatory drew almost twice as many visitors as officials had been anticipating. I guess that shows that lots of folks are smitted, or at the very least intrigued.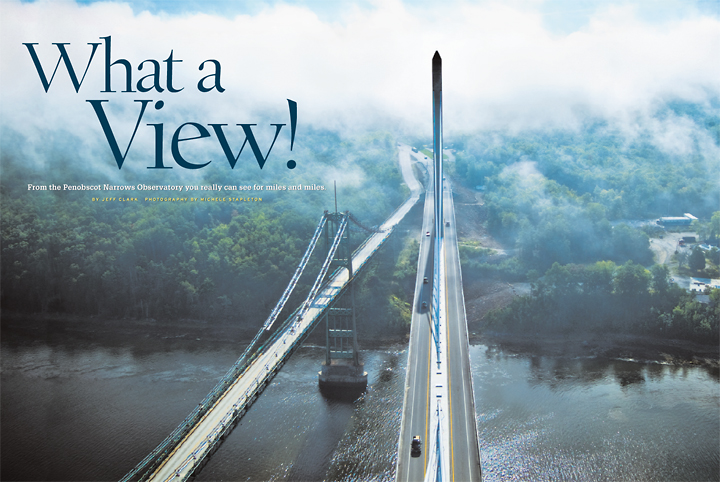 I was fortunate to be asked to shoot photos of the bridge and observatory for a story that appears in Down East Magazine's Vacation Planner issue. The issue won't be on magazine stands until the middle of March, but subscribers are getting a sneak preview as the magazine is already showing up in mailboxes. If you are a bridge aficionado or just enjoy great views, check out Jeff Clark's story in the magazine.