One of my favorite Maine web sites is Maine Harbors. With just a few clicks, I can find out when the tide will be high at the Bass Harbor Headlight or when the sun will set at Popham Beach. It's an invaluable planning tool for the Maine photographer.
Now I'm fairly certain that John Standish wasn't thinking about photographers when he set up his web site. Based in Cape Porpoise, one of Maine's loveleliest nooks, Standish most likely was thinking of the legions of boaters who ply the waters off Maine's 3000+ miles of coast. But, photographers are just as interested in knowing when the Royal River will be an ugly mudflat. Or when it will be too dark to make out the cliffs at Monhegan.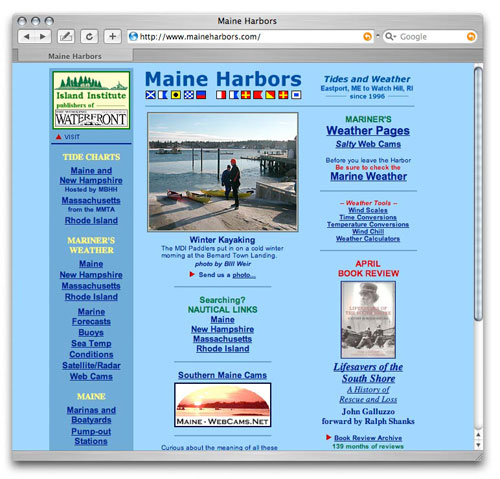 Photographers know that the light around sunrise and sunset is the most photogenic light of the day. We call it "magic light" or refer to that time span as "the magic hour," though it could last longer–or shorter–than an hour. The magic comes from the sun being very low in the sky, casting shadows that are long and soft; in a very short period of time the sun will usually go through dramatic color changes casting orange, gold, red or even pink hues over everything in sight. These are picture-perfect shooting conditions.
Because the conditions are so fleeting, it's important to be in place and ready to shoot as soon as the magic light starts. Usually, that's at civil twilight, roughly thirty minutes before sunrise.
That's where Maine Harbors' tide charts come in. If, for example, I am shooting an article in Acadia National Park, a quick look at the sunrise time in tomorrow's tide chart for Bar Harbor and I know how to set my alarm.For those who have some flexibility in scheduling, Standish's charts can even help us pick the days on which to shoot. If I'm shooting a story at Popham Beach State Park, I'd like to get as much of the sand exposed as possible, so that means shooting at low tide. I can scan the tide charts to see when low tide coincides with sunrise and sunset. That way I'll get my magic light and a wide expanse of sand. Or, if I'm shooting the Bass Harbor Headlight and would prefer to have the rockweed and barnacles on the lower rocks covered by water, I will plan to shoot on a day when high tide coincides with sunrise and sunset.
The Maine Harbors site displays six months worth of data for coastal spots from Maine to Connecticut. Looking for sunrise or sunset times more than six months in the future? Check out the U.S. Naval Observatory's Complete Sun and Moon Data for One Day. Looking for the tides in another region? Consult SaltWaterTides.com.
Postscript: In the years since this post was first blogged, Maine Harbors discontinued tide charts and instead began pointing folks to the Maine Boats Homes & Harbors web site for Tide Charts.