Another fun part of the rebranding effort has been producing a real time portfolio to go with the one that is online (the web site.)
Back in 2001 when I first launched MicheleStapleton.com, choices for portfolios were very limited; most photographers purchased a nice black leather portfolio at an art supply store and then produced twenty or so custom enlargements to slip into its clear pages.
However, the advent of digital photography and the explosion in digital books has completely redefined what passes for a portfolio; today photographers can produce custom coffee table books, many can have full photo covers.
I stumbled upon White House Customs Color's press printed books about this time last year, and immediately was a fan. I upload digital files from my computer in Maine to WHCC's lab in Minnesota. Within a week UPS is at my door with the finished book. You just can't beat that kind of service.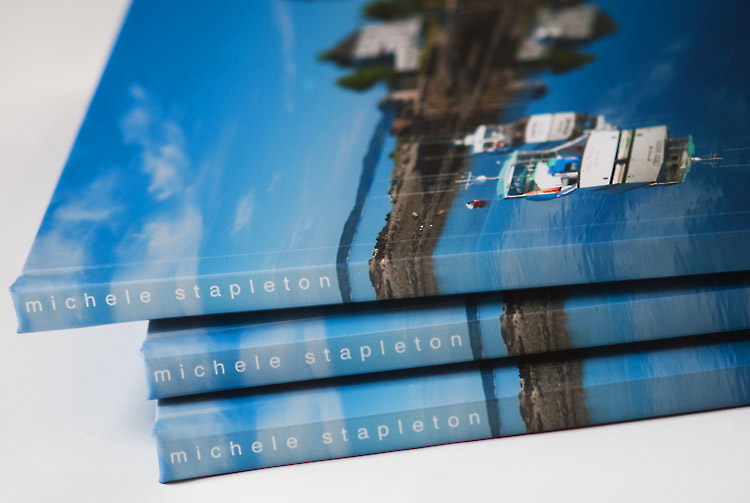 And, the quality is superior to so many other press printed books I've had the chance to examine. The price is maybe half what I would have paid in 2001 for a nice art store binder and prints. So, it's the perfect intersection of high quality, reasonable cost and quick turnaround.
Working with Dana Baldwin, a very talented graphic designer in Brunswick who also happens to be a neighbor, I enjoyed being part of the bookmaking process. I started by selecting 120 or so images for Dana to work with. From that group she picked about half for the final book, selecting images for  impact and how they worked together on spreads.
I've always appreciate the talent that a graphic designer brings to the table since I have a sister who is one, but I've not always gotten an inside look at the designer's thought process. It was fun to hear Dana explain why pictures A, B, and C worked together on a spread, but pictures A, B and D definitely did not.
First Dana designed a general book, for commercial and editorial clients. It features a sampling of  landscape, portraiture, higher education, editorial, commercial and architecture.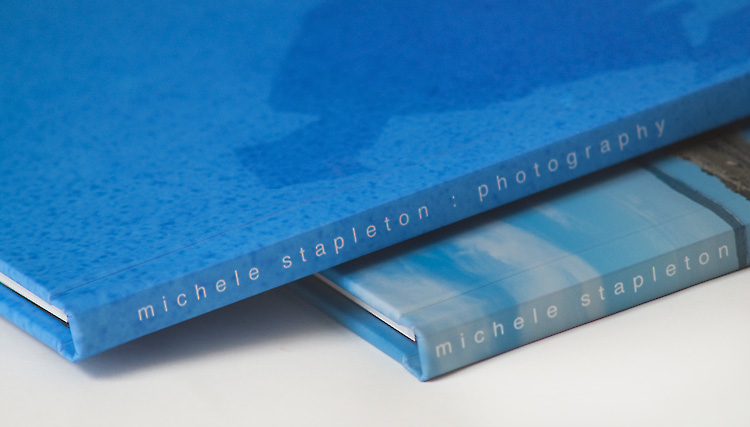 After that book was sent to White House, Dana designed a book featuring solely education work. For the cover she suggested one of my very favorite photos ever, from commencement at the University of Maine.   It has rained the day before the outdoor ceremony at Alfond Stadium, and puddles of water on the track produced artsy reflections of the graduates walking to their seats. It was a gamble, because most folks will probably have no idea what the cover is or how it was produced (a picture heavily Photoshopped? a graphic?), but I'm so glad she recommended it, as it turned out looking great. The gritty texture of the track provides a speckled backdrop for the outlines of cap-and-gowned graduates walking by.
The books feature very large photos–often just one per page, and Dana finished the package off with nice details; for example, my name and new logo are on the spine.
If you're an art buyer, magazine photo editor, or other potential client and want to see my work in a form other than what's online, please drop me an email or call and we can ship a portfolio to you right away.