Here's a nod to Bangor Photo's monthly photo contest, which this month is featuring cemeteries.
In a state that's filled with many pretty little graveyards and cemeteries, one that truly stands out for me is the Glidden Street Cemetery tucked away on a lovely residential part of Newcastle (yes, on Glidden Street.)
Just across the Damariscotta River from Damariscotta (only a couple of turns off of Route 1), the cemetery is on a quiet tree-shaded lane lined with stately old homes and the St. Andrew's Episcopal Church, which is also worth a visit.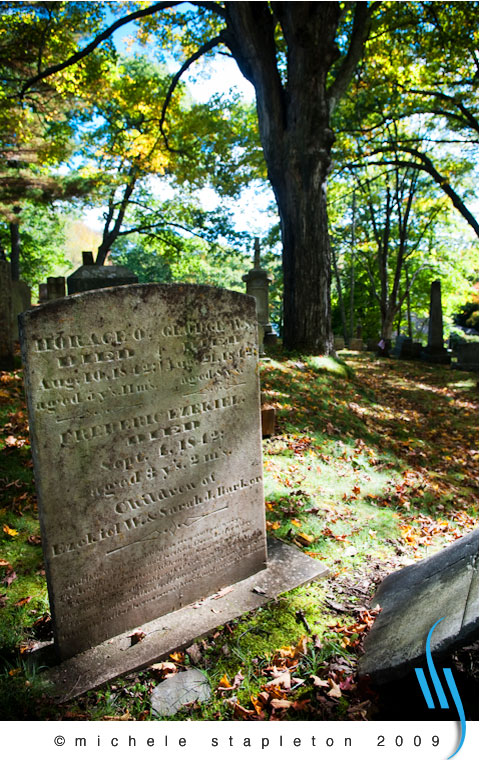 Several things make the Glidden Street cemetery stand out. First of all, the property itself is very photogenic. It's a narrow strip of land that runs from the street all the way down to the river. The gently rolling strip is filled with mature trees, and many of the headstones are over a hundred years old and carved with intricate details.
Driving back from Camden this past Sunday I detoured to see how the foliage looked in the cemetery. The leaves weren't quite the shades I had hoped for, but the nice light made me stay.
This particular headstone stood out because of the light falling across it and the old carving. As I got closer I could see it marked not one death, but three. One family lost three small children (ages 8, 5 and 3) in a three-week span in August and September of 1842. How very sad.
I wish I'd known the legend of Mary Howe, as I would have hunted down her grave. I'll have to look it up on my next trip there.
Have a favorite cemetery you frequent with a camera? Then, check out the contest rules.